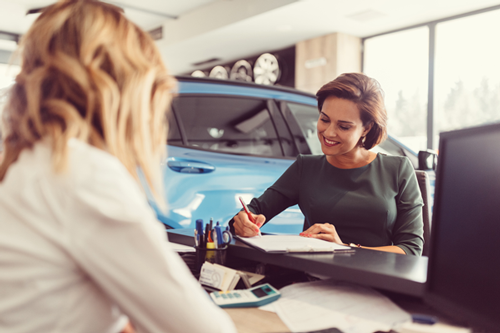 Lease Your Next Vehicle in Killeen, TX
When most folks think about getting a new car, they really only think about one way to pay for that car – traditional financing with an auto loan. But, there's another way that doesn't require any loans, and your monthly payments will most likely be much lower. What is this financial miracle, you ask? Leasing! It's a great way to have more affordable payments on your favorite Toyota vehicle.
As we've mentioned, one of the most celebrated benefits of leasing a vehicle is the low monthly payments it affords you. There are many other perks to leasing that we'll cover a bit later. If you've never considered a lease, there's no time like the present – you could say goodbye to traditional financing and say hello to lower monthly payments today by leasing your favorite Toyota model from us at Toyota of Killeen.
Is a Lease Right For You?
Though the lower monthly payments are certainly attractive, there are a few things you'll want to consider before you sign a lease. These aren't drawbacks, just a few things that differ from owning a car. The biggest difference is that when you're leasing, your monthly payments don't help you work towards owning the car, they allow you to drive and use the car during your lease period. You'll want to consider these perks to help you decide if a lease is right for you:
How long do you want to have your vehicle? Leases are generally short-term, only a few years or so. If you like to switch out their vehicles every few years to stay on top of new trends, leasing allows you to do that with no hassle or stress.
How much do you value top trims? Because you'll save each month from leasing over buying, you might be able to afford a higher trim level with more features and amenities than if you were financing your new Toyota.
Do you want an easy trade-in at the end of your lease? When you own a car, getting rid of it to move on to your next car can be tough. You can either sell it to a private buyer, or trade it in with the potential of losing residual value. However, with a lease, you'll simply return the vehicle to us, and pick out your next vehicle – hassle and stress-free.
If you're still not sure if a lease is right for you, reach out to us at Toyota of Killeen. Our leasing experts would be happy to walk you through any questions or concerns that you may have, share our current leasing options with you, and help you decide whether you should lease or finance your new Toyota.
Buy or Lease From Toyota of Killeen
When you're shopping at Toyota of Killeen, your happiness and satisfaction is our number one goal. It's why we stock an outstanding selection of new Toyota models, as well as an extensive selection of pre-owned vehicles in a variety of makes and models. Whether you decide to lease or finance your new vehicle, you can feel confident knowing that you'll get a great vehicle for a great deal from Toyota of Killeen.